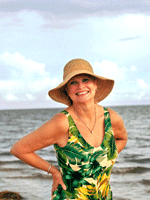 (Getty Images)
By Heather Mayer
MONDAY, Aug. 10, 2009 (Health.com) — Need a reason to look on the bright side? A new study suggests that optimists' glass-half-full approach to life may actually offer some health benefits. Women 50 or older who are optimistic are less likely to get heart disease and die of any cause in a given time period compared to women their age who are more pessimistic, according to a study published this week in Circulation: Journal of the American Heart Association.
"In the grand scheme of things, the real importance is recognizing and raising awareness of the link between attitude and health," says lead author Hilary Tindle, MD, an assistant professor of medicine at the University of Pittsburgh. Dr. Tindle says that pessimism may be as bad as having high blood pressure—a well-known heart risk factor—when it comes to cardiovascular health.
Overall, the most optimistic women had a 9% lower risk of developing heart disease and a 14% lower risk of dying from any cause compared to their most pessimistic counterparts over the course of eight years.
The study included 97,253 postmenopausal women ages 50–79 who were enrolled in the government-funded Women's Health Initiative; they were all healthy and free of cancer and cardiovascular disease at the start of the study.
The women were asked to agree or disagree with statements such as "In unclear times, I usually expect the best" and "If something can go wrong for me, it will." (Those who answered yes to the first statement would be considered optimists, and those who agreed with the second would be considered pessimists.)
Dr. Tindle explains that, in general, optimists tend to experience less stress than pessimists when faced with problems, and they tend to assess the situation, cope with the problem head-on, and mobilize support to solve issues, more so than pessimists.
However, only the most optimistic women (those who scored highest on the questionnaire) appear to have a survival advantage; such women had a 16% lower risk of stroke, a 30% lower risk of heart disease–related death, and a 24% lower risk of cardiovascular disease–related death than those who were pessimists.
Next page: Can an attitude change lower your risk?